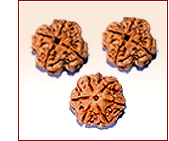 The
Saraswati combination
is made of
4 mukhi
and
6 mukhi rudraksha
and is specially designed for students, intellectuals, artists and writers.It increases mental power, wit, willpower, intelligence, focus,concentration and gives the wearer creative wisdom, learning and knowledge. Maybe worn as necklace or bracelet.The standard combination is 2 beads of
4 mukhi
and 1 bead of
6 mukhi.
Many variations are possible.For chidren below 8 years one can choose a single
4 mukhi bead
.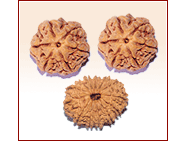 This power combination is having one
bead
of
13 mukhi
and Two beads of
6 mukhi
. It is for men/women who wish to enhance their charisma, attraction, magnetism and brilliance.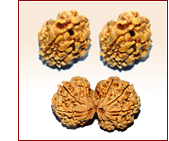 This combination has one bead of
Gauri Shankar
and Two beads of
2 mukhi
.It gives peace, happiness and comfort in the family. It also harmonizes the atmosphere around the wearer. This combination improves good marital relationships .It is also prescribed for bachelors for better marriage prospects. The couple who have no chidren should wear it along with additional 2 beads of
6 mukhi
.