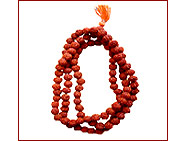 Everything in this world is countless, innumerable, but in
God's
account every thing is countable as the account of stocks with a shopkeeper, an account of cases in a court. The number of files in the office or the number of the prisoners in a prison. the most astonishing account of the number of
Gods
and
Goddesses
. There are 64 crores of them.
Rudraksha Rosary
can be used for the
Jap
of any
Mantra
. The wearer is protected from evil spirts of all sorts. Ayurveda considers
Rudraksha
a "
Mahaaushadh
". The Panaced for all ills. The great medicine Chicken pox, Netterash, measles too can be cured by
Rudraksha
. Medicines are made with
Rudraksha
for cholera, indigestion and amoebiosis.