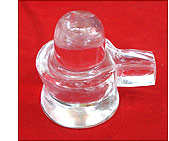 Sphatik
(
rock crystal
) is the purest and most auspicious gem in the world. It is believed that during "
Ramayan Kaal
:
Load Ram
and
Laxman
Sar on the
sphatik
rock. Any idol which is made of
sphatik
does not need "pran pratishtha" before worshipping. It never gets impure (
ashuddha
). The shivling made up of sphatik is considered to be the best. Worshiping a
sphatik
shivling
is considered to have same effect as worshiping the "
Jyotirlings
". It bring prosperity, happiness and contentment to the house where it is worshipped.