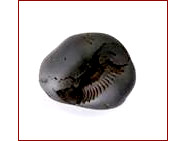 Believers in the Hindu Religion and God, worship Shree
Shaligram
with full faith because it is regarded as the symbol of Lord Vishnu.
Shaligram
(fossil) is found in Gandak River in Nepal. It is said in the Hindu Mythology that only the drinking of the "charanamrit obtained from bathing the Shree
Shaligram
with the mixture of the Ganga water, curd, milk ghee and honey with the Tulsi leaves removes the sinful and maligned- mentality of the person. Without taking this charanamrit, the worship of Lord Vishnu is incomplete. In the Padma Purana Lord Siva declares the grea'cness of salagrama sila as follows:
"Mallinga Kotibhi Drsthi Yad Phalam Pujiti Salagrama Slla Yamtu Ekasyam Iva Tad Bhaved The merit obtained by seeing and worshipping hundreds of thousands of My Lingams, is equivalent to that obtained by worshipping one single salagrama sila.
The sign of Vishnu chakra is found on
Shaligram
. The chakra is seen clearly on the
Shaligram
which opens by itself. In,
Shaligram
which are closed, there are small holes which make us realize that there is chakra in it.
According to Shiva Puran the reasons of chakra's e~istence in it, is that once upon a time Brinda cursed Lord Vishnu that he turn into a black stone and that worms would bite him. Therefore a worm takes birth in
Shaligram
and bites it in circular form. It contains very little gold in it, which is lost in it. It is a wonder in itself.
By worshipping
Shaligram
the man gets pleasure, comfort, prosperity and honour. The man who worships it gets salvation.