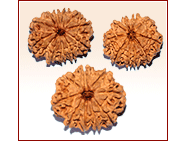 This bracelet has
9 mukhi rudraksha
,
10 mukhi rudraksha
and
11 mukhi rudraksha
. This gives protection to wearer from negativity, evil spirits and psychic attacks. Ideal for healers too.Wearer is blessed with lots of energy" dynamism and fearlessness.
10 mukhi rudraksha
and
11 mukhi rudraksha
also pacify all planetary ill effects.
Mercury
beads are also provided in some cases with this
combination
to remove evil spirits and also for health.To remove all kinds offear this is a very useful combination. If someone does not want to wear a bracelet then the same beads can be worn around neck giving same good effects.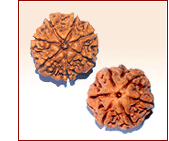 This combination is for getting blessings of
Laxmi
to get wealth, success and happiness. It has two beads of
7 mukhi rudraksha bead
and one
8 mukhi rudraksha
.The I wearer is benefitted as all obstacles are removed and
Laxmi
blesses with success to gain material wealth, recognition and happiness.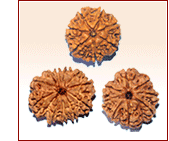 In these combinations along with
7 mukhi rudrakhsa
and
8 mukhi rudraksha
, additional beads are used which depend on nature of business one is engsged. For example:
• 11 mukhi rudraksha
Wherever stability in business is required
• 12 mukhi rudraksha
For manufacturers and contractors
• 13 mukhir udraksha
For artists, writers, actors, leaders, marketing
professionals, top CEOs
• 14mukhi rudraksha
For those desiring to be on top, share market
players, those dealing in finance. Higher than
14
mukhi rudraksha
are selected on case to case basis.
Other than above other beads like
3,4 5 and 6 mukhi rudraksha
are also prescribed to take care of mental peace, energy and health problems. A typical business combination for a person engaged in manufacturing or construction activities having Hypertension a combination of
3,5,7,8 and 12 rudraksha
will be suitable and for those seeking to reach top position in their field and have stressful work should