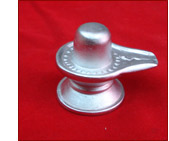 Mercury
is regarded as of
Lord Shiva
. In Ayurveda 'it isa flowing metalloid (fluid metal). There are sixteen rituals to purify and solidify mercury in chemistry. On account of. being
Lord Shiva
Swmen it is
Lord Shiva
- Incarnate. '
"Ras Lingam Mahalingam ShiVa Shakti Niketanam. 'Lingam Shivalayam proktam Sidhim wa Sarvadehinaam." The centre of
Lord Shiva
' and Shakti are the Mercury Shiva Lingas known as Rasa lingas and are rare even for the gods to find.
In our cultural heritage
Mercury Shivaling
has the most importance. It is written in Sarvad.arshana' Sangrah-
"Abhrak in tav beejum tu mum beejum to pardaha Baddho paardo lingo yam mritu daridrya nashnum"
Lord Shankar says himself to Bhagwati that the man who solidifies Mercury in linga and worships it, poverty would never enter his house and he would n'ever fears death during his life. 'Vidhay ras lingam yo bhakti yukta samarchwet Jagatray linganam pooja phal'am mapnuyat Lingnam koti sahastrasya yatphalam samyaqarchnat Tatphalartl koti gunitam.raslingam archanabhavet"
A man can get crore, times greater blessing by worshipping a Shiva Linga in case he worships a
Rasa Shivaling or Parad (Mercury) Shiva Linga
.
"Dharmarth kaam mokshakhya purusharth chaturvidya siddhayanti natra sandeho ras raj prasadtaha"
"Swayambhu lingam sahastra yatphalam samyagarchnatTat. phalam koti gunitam ras iingarchna bhavet"
There are four goals-in buman life - religion, health, desires and -salvation. 'These can be fulfilled by worshipping the Mercury Linga and the worshipper of Lord Shiva gets crores of Virtues.'